https://cdn.mlbtraderumors.com/files/2019/02/matthew-joyce-200x300.jpg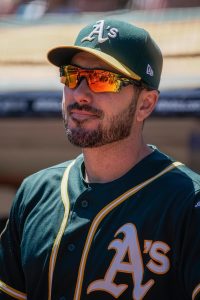 The 34-year-old Joyce will join Cleveland in search of a rebound campaign after struggling through a down season with the A's in 2018. Last year, in the second season of a two-year deal worth $10MM, Joyce hit just .208/.322/.353 with seven home runs and nine doubles in 246 plate appearances across 83 games. Back troubles hampered him along the way, as he spent nearly two months of the summer on the disabled list due to a lumbar strain. That said, Joyce is just a year removed from turning in a .243/.335/.473 slash with a career-best 25 homers in 541 plate appearances with Oakland. That type of production would be a welcome sight for an Indians organization whose current outfield mix is expected to feature Greg Allen, Leonys Martin, Tyler Naquin, Jordan Luplow and, if healthy, Bradley Zimmer. Joyce doesn't exactly bring stability to that uncertain mix, given questions about his own production following last year's rough results, but if he's healthy there' s a good chance he'll be among the club's more productive options. Joyce, after all, turned in decidedly above-average offensive output in seven of the eight seasons leading up to 2018 and is a career .250/.351/.451 hitter against right-handed pitching. He's best deployed in a platoon capacity (.184/.267/.306 career slash against lefties), making him a potentially nice pairing with the right-handed-hitting Luplow. On the defensive side of the coin, Joyce is limited to the outfield corners, although he did log 16 innings in center for the A's in a pinch across the past two seasons. He's generally received average or better marks for his range in both left field and right field, and he has more than 2900 innings of big league experience at both positions. By Jeff Todd | February 8, 2019 at 5:52pm CDT The Indians have agreed to terms with reliever Alex Wilson, according to Jeff Passan of ESPN.com (via Twitter). The right-hander receives a minor-league deal with an invitation to MLB Spring Training. Wilson will need to earn his way onto the Indians roster this spring. If he can do so, he would stand to earn $1.25MM for the 2019 season. The deal also includes a $750K incentives package. The 32-year-old Wilson was a perennial contributor to the Tigers bullpen over the prior four seasons. All told, through parts of six MLB campaigns, he carries a 3.23 ERA with 6.0 K/9 and 2.3 BB/9 along with a 44.8% groundball rate. The bottom-line numbers were similar last year, when Wilson ran a 3.36 ERA in his 61 2/3 frames while boosting his groundball rate to 49.2%. Any team would certainly love to have a durable, low-3 reliever in its pen. The issue with Wilson is whether that sort of performance can really be anticipated moving forward. The Detroit organization obviously wasn't optimistic, as it non-tendered him rather than paying a projected $2.8MM salary. And the rest of the league declined to come forward with a 40-man spot before the start of camp. Wilson sits in range of 93 mph with his four-seam and two-seam fastballs. He throws breaking balls as well but relies most heavily on cutter/slider offering. Wilson's hard-to-classify main pitch was more effective than ever last year even as he boosted its usage to the point that he utilized it in half of the pitches he delivered. To date, Wilson has maxed out that arsenal and done just enough to get outs, even without a swing-and-miss offering or sustained, elite groundball production. He doesn't issue many walks and has historically not outperformed Statcast's expectations (career .317 wOBA-against vs. .314 xwOBA-against), but ERA estimators haven't been enthused (career 3.81 FIP, 4.39 xFIP, 4.14 SIERA). Those interested in learning more about where Wilson has been and where he might be headed would do well to check out this lengthy look from SB Nation' s Brandon Day. 4. 新聞連結:

https://www.mlbtraderumors.com/2019/02/indians-sign-matt-joyce.html https://www.mlbtraderumors.com/2019/02/indians-to-sign-alex-wilson.html

5. 備註: (1) 印地安人以小聯盟約簽下外野手Matt Joyce,如果能進入25人名單的薪水是$1.25/1YR ,並依據打席數給予至多$500K的激勵獎金;另一方面,印地安人也以小聯盟約附帶大聯盟 春訓邀請簽下後援投手Alex Wilson,如果能進25人名單的薪水是$1.25MM/1YR,另外還有 $750K的激勵獎金。 (2) 在Matt Joyce的介紹方面,他加入印地安人尋求一個反彈的球季,在運動家$11MM/2YR 的合約期間,第一年打出生涯單季最多25轟,但第二年打得掙扎、因腰肌勞損(Lumbar Strain)進IL(Injury List)兩個月,他或許對球隊不是全職外野手,但藉由與陣中幾位年 輕好手搭配仍是值得期待,球團期待他能回復過往到過往的水準。 (3) 在Matt Joyce的打擊方面,他比較適合擔任platoon的腳色,他生涯對右投手打擊三圍 .250/.351/.451、對左投手僅.184/.267/.306;在防守方面,他的守備位置為左右外野, 雖然他曾在運動家守過16局的中外野,但他生涯左右外野站超過2900局,貢獻平均或以上 的守備水準仍是比較可信的。 (4) 在Alex Wilson的介紹方面,他為老虎隊牛棚貢獻數年心力,生涯在大聯盟繳出3.23 ERA、6.0 K/9、2.3 BB/9及44.8%的滾地球製造率,與去年球季的表現相去不遠。對任何球 隊來說,至少需要有三位可信任的後援投手,而Wilson在牛棚內可期待有好表現,而老虎 隊會選擇不跟他換約是有原因的,因為球隊前景不是很樂觀,加上他預測的仲裁薪水需要 $2.8MM,或許對現今的老虎隊來說,增添一個40人位置或許比留下他更為重要。 (5) 在Alex Wilson的投球方面,他不太會投保送,他的四縫線與二縫線速球可達93mph, 變化球也投的夠水準,他從去年開始增添切球跟滑球的使用搭配,讓打者更難以捉模,而 這種投球模式對解決打者已足夠,雖然無法造成打者頻頻揮空,但他有傑出的滾地球製造 能力,Statcast's預計他今年的表現不會與生涯相去甚遠,生涯.317 wOBA-against vs. .314 xwOBA-against、3.81 FIP, 4.39 xFIP, 4.14 SIERA。 (6) 印地安人隊今年預計的投手與野手陣容: A. 投手部分: (A) SP:Corey Kluber、Trevor Bauer、Carlos Carrasco、Mike Clevinger、 Shane Bieber、Danny Salazar(INJ)。 (B) SP/LR:Adam Plutko。 (C) RP:Nick Wittgren、Alex Wilson、Oliver Perez(L)、Dan Otero、Neil Ramírez、 Jon Edwards、Nick Goody、Adam Cimber、Tyler Olson(L)、Ben Taylor。 (D) SU:???。 (E) CL:Brad Hand(L)。 B. 野手部分: (A) C:Roberto Pérez、Kevin Plawecki。 (B) 1B:Carlos Santana/Jake Bauers。 (C) 2B:Jason Kipnis、Ryan Flaherty、Max Moroff。 (D) 3B:José Ramírez、Moroff。 (E) SS:Francisco Lindor(INJ)、Yu Chang。 (F) RF:Tyler Naquin、Joyce、Jordan Luplow。 (G) CF:Bradley Zimmer(INJ)、Leonys Martin、Greg Allen、Kipnis 。 (H) LF:Matt Joyce、Luplow、Bauers。 (I) DH:Carlos Santana/Jake Bauers。 (7) 兩位去年在球隊的成績表現: A. Matt Joyce(今年34歲;去年在運動家隊薪水:$6MM):

G H HR RBI SO BB BA OBP SLG OPS OPS+

83 43 7 15 53 35 .208 .322 .353 .675 87 B. Alex Wilson(今年32歲;去年在老虎隊薪水:$1.925MM):

ERA HLD SV SVO IP SO HR BB ERA+ FIP WHIP

3.36 14 0 4 61.2 43 8 15 131 4.28 1.054 --

※ 發信站: 批踢踢實業坊(ptt.cc), 來自: 61.56.143.149 ※ 文章網址: https://www.ptt.cc/bbs/MLB/M.1549688681.A.9EC.html

推 gn02530640: 你的FIP和WHIP填錯啦 02/09 13:12

推 whhw: 部落還要賣sp嗎? 02/09 13:13

→ saiulbb: 是= =我改一下 02/09 13:13

推 gundam00: 笑臉又要在美中爽了... 02/09 13:31

推 nuggets0916: Salazar回不回的來啊 02/09 13:35

推 haruhi5566: 這外野真的太悲劇 02/09 13:58

推 andy880036s: 02/09 13:59

推 TBDTBD: Wilson 感覺cp值不錯 02/09 14:27

→ arashicool: 把Kipnis丟外野 Jose拉回二壘 育成三壘 這樣還行 02/09 15:03

→ arashicool: Joyce應該會拿來代打或DH吧 外野看他跑不起來了 02/09 15:03

→ triff: 印地安人小成本投資力作,新球季驗收成果。 02/09 15:41

推 dotdotisme: 先發真牛比 02/09 16:02

推 catsondbs: 原來Matt Joyce已經這麼老了 我還看著他debut... 02/09 17:47

推 Roshiel: 驗收什麼成果?我猜笑臉美中冠軍,誰想跟我賭?? 02/09 18:54

推 renmin: Yu Chang? 張育成? 02/09 19:53

推 polanco: 就張育成啊 02/09 19:58

推 andy880036s: 嘿 我可以R大賭嗎XD 我賭美中不是笑臉 10000P之類的? 02/09 22:29

推 shadow6571: 張育成似乎可以開幕戰先發的樣子… 02/09 22:42

推 jjack1226tw: 城牆大 乾爹 02/10 08:28

推 dreamone: 想請問為什麼張育成只登錄一個單名? 02/10 09:08

→ saiulbb: 我也不知道 去查就只有這兩個字 02/10 09:32

推 sabathia: 因為好念,不用一直向人解釋正確念法 02/10 11:27

※ 編輯: saiulbb (61.56.143.149), 02/10/2019 12:01:44

推 jason1515: 老外唸Chang跟Chen都念得一模一樣 所以之前那樣念感覺 02/10 16:05

→ jason1515: 就像重複念兩次 大概覺得那樣不好聽吧 02/10 16:06

推 taxlaw1991: 李振昌在印地安人晚期登錄名也變C.C Lee啊 02/10 18:57

推 Werth28: 樓上 不是debut就是西西李了嗎? 02/10 20:34

推 Sizemore24: 張育成能否開季25還是得經過春訓才知道,沒有穩的 02/10 20:39

→ Roshiel: andy880036s大願意賭當然行啊....10000P我還有 02/12 09:51

推 andy880036s: 好欸成交 哦齁~ 02/12 14:46

1. 新聞來源: mlbtraderumors 2. 新聞標題: Indians To Sign Matt Joyce Indians To Sign Alex Wilson 3. 新聞內容: By Steve Adams | February 8, 2019 at 11:16am CDT 11:16am: Joyce's contract comes with a $1.25MM base salary if he makes the roster, and he can earn an additional $500K based on his number of plate appearances, per Bob Nightengale of USA Today (Twitter link). 8:10am: It's a minor league pact for Joyce, Joe Noga of Cleveland.com reports. He'll be in Major League camp with the Indians this spring and look to earn a spot on the Opening Day roster. 7:35am: Free-agent outfielder Matt Joyce announced this morning, via Twitter, that he's agreed to sign with the Indians. Terms of the deal for the ACES client are not yet known.